Starting the Conversation
Whatever gets you talking
Opening the door to begin a conversation can really help. Not sure where to start? Try one of these opening lines to help make starting the conversation easier.
Find a moment to talk
Beginning the conversation doesn't mean you have to dive straight into talking about mental health struggles or have an intense heart to heart. Consider instead meeting your friend where they are or extending an invitation to hang out. You can even talk about struggles you are going through to give your friend an avenue to open up. Whether it's over a bite to eat or taking a walk, a simple "what's up" is a great place to begin.

Need some ideas of how to start the conversation? Try one of these:
Ask a friend to play a pick-up game of your favorite sport.
Casually ask while playing an online game together.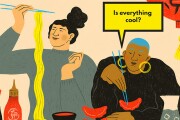 Invite them to grab food after class.
Ask "what's up" in a DM or text.
Have a shared hobby? Use that activity as an opportunity to check in.
Invite them to go on a walk or take a drive around the neighborhood.
Don't feel like these would spark the conversation?
Check out our additional resources page for ways to navigate tougher conversations about break-ups, anxiety, depression, death of a loved one, or abuse.